Mosaic, Crowne Plaza, Pune
Mosaic - Crowne Plaza, is hosting a food festival 'Simply South' from 3rd July - 21st July, presenting delicacies from five Southern regions.
Being a foodie, I love trying and exploring food from different parts of the world. Over time, not only did I give my taste buds a journey across the globe, but I also realized my love for Indian food. Having preferred multiple cuisines over years, lately I'm inclining to try Traditional and Regional Indian cuisine. Lost recipes of traditional food have so much flavors and deserve to get global recognition.>
Well it's not always possible to travel places to try different food and that's what Food Festivals are for. I love to attend Food Fests as they have the magic to transport to places without having to travel.

I happened to attend one such food festival at
Mosaic, Crowne Plaza – 'Simply South Indian'
. During the length of the festival different traditional delicacies along with signature dishes from Southern region are being showcased. The decor and aromas of spices filled my heart with happiness. The tables were arranged with banana leaves to give a traditional outlook.
Just after I entered the buffet area my eyes caught glimpse of my favorite pachadis (chutney/accompaniments), salads. Moving forward I spotted variety of rice – coconut rice, lemon rice, curd rice, noodles, dahi vadas followed by traditional preparations in main course both in Veg and Non-Veg. The dishes were tempting and multiplied my hunger instantly.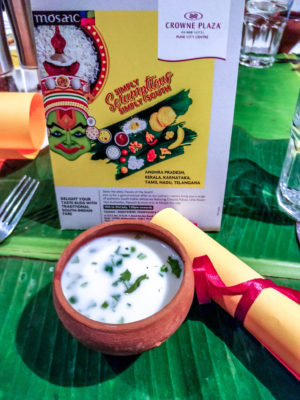 As I attend the festival for a tasting session, it was a fixed menu. I started with chaas –
Starters –

Tomato Rasam –
Rasam is one of my favorite hot drinks to have anytime. Its not only a remedy to cure cold and cough but also tastes delicious. Out of the different variants of rasam, the one I tried was tomato one. The flavor was good, but it was little spicy for my liking.
Urlai Podi Varuval –
A spicy treat which comes the land of Tamil Nadu was crisp tossed potatoes in traditionally prepared powdered masala using roasted lentils, red chilies, asafetida and other condiments. Spicy coating over crisp potatoes made this dish a hit for me.
Koon Ularthiyathu –
Ularthiyathu is a Kerala dish which traditionally is prepared with meat or any vegetable. Spiced with curry leaves and pepper to it give a nice kick of flavors in each bite. I love mushrooms in any form and I was looking forward to trying the mushroom (Koon) prepared in South Indian style. The mushrooms were juicy, cooked to perfection and well spiced.
Keerai Vadai –
An appetizer from the land of Andhra Pradesh. Crisp fried vadas prepared with urad dal and spinach along with spices. Fried food is best enjoyed during monsoons and this vadas just made the meals even better.
Mains


Ennai Kathirikai Masala – A stuffed brinjal dish from Tamil Nadu region. Small sized brinjals stuffed with freshly ground masala and cooked in a gravy. Spicy and tangy dish perfect to go along with Kerala style Parotta that was served along or even appam and rice.
Ullitheeyal – Kerala special gravy made with shallots in spicy, tangy and creamy based gravy. This gravy had a burst of flavors and could have been my favorite pick from the menu only if it was slightly less salty.
Coconut Rice – No day is complete for me without having a portion of rice. These South Indian style prepared rice varieties are my all time favorite for any meal. Rice cooked in coconut milk was delicious.
Desserts –

Coconut Barfi –
South Indian meal is incomplete without coconut. This very versatile ingredient which comes handy to use in each course of the meal. My favorite would be desserts. The perfectly balanced sweetness and rich texture gave this meal a perfect ending.
Cost – Average Cost is 1050/- ++
Duration – 13th July – 21st July 2018 7:300 PM – 11:30 PM
Location – Crowne Plaza Pune City Centre, Lobby Level, City Centre, Bund Garden Road, Pune