Geo Bistro, Viman Nagar, Pune
Geo Bistro in Viman Nagar serves variety of Continental, Asian and European food.This place is designed and run by a passionate foodie couple
This place truly deserves a mention.
Having travelled to many places in Europe, I always missed those flavors of authentic Continental and European food back in India. There are not many varieties for Vegetarian food in Continental & European cuisine, but Geo Bistro in Viman Nagar presented an answer to all my concerns for variety of Continental, Asian and European food.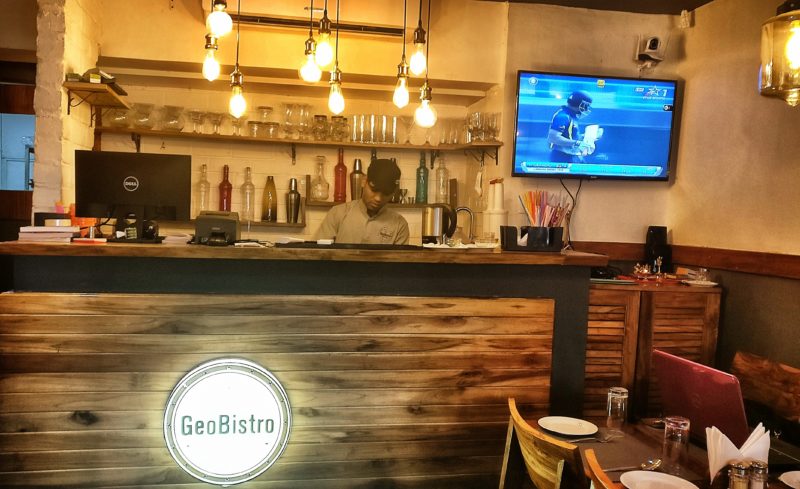 This place is designed and run by a passionate foodie couple. The warm lightings, comfortable seating arrangements, both inside and outside, wall-hangings and beautifully decorated interior gives an amazing feeling and assures you that you have stepped into a right place. The perfectly curated menu, which includes various options for both vegetarians and non-vegetarians from across the world, truly highlights the passion, dedication and efforts owners have put in.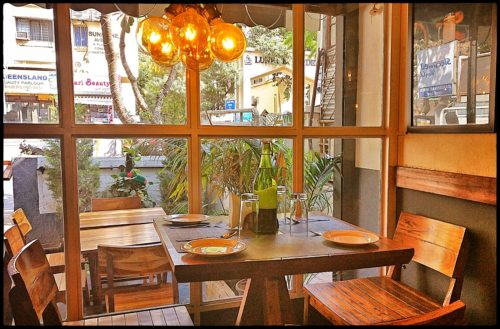 The tables arranged with excellent cutlery, plates and colored bottle in between, which gives a feel of fine dine restaurant. Minute detailing in each corner gives this place a elegant look.
The staff is humble and has a good knowledge of menu to help their customers choose the right food. The service is quick and rightly taken care of.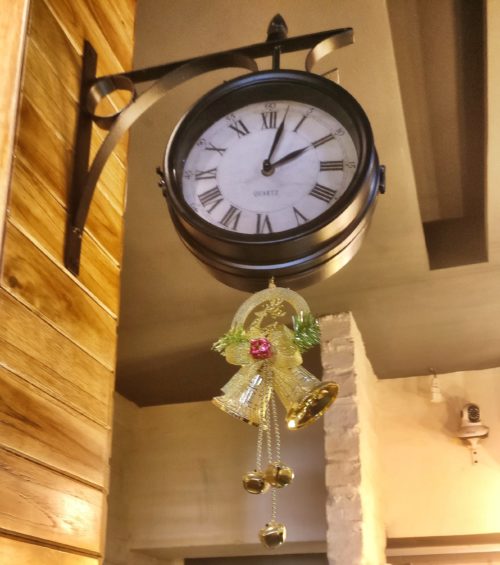 Coming to the main part food for which we visit any restaurant.
We started with the mocktails –
Basil Mojito – I have had Mojito at various places now and its one of my go to drinks of all times. However, I have never had Mojito with basil before. Nicely blended flavors of basil made it outstanding. Loved it.
Cucumber jalapeno Martini – Perfect blend of cucumber, fresh lime, jalapeno, black salt, cayenne pepper and sugar. The flavor of cucumber with a kick of jalapenos and a ting of cayenne pepper arouses all my taste buds. My personal favorite. Highly Recommended.
Halloween Blue Pineapple Mojito –
Muddled pineapple with a hint of lime and mint, topped with blue curacao, crushed ice and dry ice. The presentation was top notch and unique for a mocktail.
Krazy Currant –
Perfect flavor of black currant with grape juice, black salt, white pepper and lemon juice. Balanced flavors.
Ying Yang Martini –
A nice drink to go along with fast food. Comprised of chocolate, vanilla ice cream, whipping cream and milk. Perfectly blended and topped with chocolate shavings and MNM's.




Starters –

Korean Cheesy Nachos –
These were spinach flavored green Nachos, topped with gochujang (thick, spicy and sticky condiment used in Korean cooking) & spiced spicy cheese sauce. Topped with fresh vegetables like jalapenos, olives, bell peppers, green onion and cheese like mozzarella, parmesan and cheddar. Served along with freshly in house made tomato salsa and gochujang spiced mayo dip. Nice option to have over nice long chit chats.
Romesco Baby Potatoes –
Perfectly baked baby potatoes with skin on, stuffed with finely chopped veggies mixed with Romesco (nut and red pepper sauce) sauce, topped with garlic mayo and chopped jalapenos. Presentation chic on a black fancy dish that made it so appealing and tempting.
Papas ala Saif –
Crisp and crunchy potato discs covered with yellow bell pepper sauce and topped with boiled egg. However, me being a pure vegetarian, they were generous and thoughtful enough to remove eggs from the top for me to get me a vegetarian version of it. The potato discs were crispy from outside and soft from inside. The sauce was cheesy, had mild and creamy flavor.
Mains –
Casado –
Casado is a Spanish term meaning married. It a Costa Rican meal comprised of rice, black beans, plantains, salad, tortilla and any protein of choice (meat/paneer). As married men in Spain is served such wholesome meal at home and when customers are to be treated with such luxury they are served such meal. Hence the name Casado.
At Geo Bistro, authentic Casado is served with so much flavors, fully justifying the name and giving their customers a royal feel.
The spicy tomato basil sauce served along was tangy with fresh flavor of basil was perfect to go along with parsley rice and paneer steak. A must have dish for vegetarians. Highly Recommended.
Locro de zapallo –
Red pumpkin stew cooked with onion, garlic, potato, green peas, corn, veg stock, oregano, yellow pepper paste and cream. It gives a perfect taste of fresh vegetables, creamy texture with thick consistency. Served along with parsley rice and oven roasted baby potatoes. Baby potatoes were perfectly roasted, garnished with mixed herbs to give a flavor to it. I liked this dish with mild flavors and creamy texture.
Shakes –


Chocochip cookies shake –
A blend of milk chocolate, vanilla icecream, vanilla ganache and chocochip cookies. Topped with vanilla icecream and whipping cream. Balanced sweetness and perfect chocolaty taste. Simply loved it. Slightly high on pocket but loved the taste.
Love those Love Handles (Diet Shake) –
Blend of dates, fresh kiwi, low fat milk, low fat vanilla icecream and almonds. Topped with almonds and kiwi. Personally, I feel diet shake is a myth. Shakes have better taste when its creamy and thick. This particular one had lots of taste with sweetness of dates, crunch of almonds and slight bitter after taste due to kiwi.
Overall a lovely experience with great hospitality, good food, awesome ambience. Simply could not fault this place. Special Thanks to Sapna and whole Geo Bistro team for having us.