Top dishes of 2018
After visiting and savoring so many different dishes in different restaurants I thought of listing Top 10 dishes that I tried, but the list went on and on.
2018 has been an amazing journey as a foodie for me. I grew as a food lover, my Insta family grew and I tried food at more than 80 different restaurants in Pune and loved every part of it.
Pune is an IT & student hub. With mixed crowds of foodies, Pune is now evolving in the Food Industry. People are willing to destress themselves with the booze over the weekend, families spending time to relax, students looking for pocket-friendly cafes to chitchat with buddies – Pune has it all. From cafes to street food to fine dining, Pune has a lot to offer.
After visiting and savoring so many different dishes from different cuisines I thought of listing Top 10 dishes that I tried, but the list went on and on. I could not help including other dishes as well.
I hope you like my recommendations. If you happen to try the dishes mentioned, please do let us know.
Bhuna Kathal Wrap (Kalinga Veg Gourmet Restaurant) – Among all the favorite places this place tops my list. This place has just won my heart. You can blindly put a finger on any dish in the menu and I bet you will not regret. Being a vegetarian, I had never tried the famous bhuna masala. I was blown with a burst of flavors with my first bite of 'Bhuna Kathal Wrap'. It was by far the best dish I tasted in 2018.
More about this place – Kalinga Veg Gourmet Kitchen
Dilli Wali Aloo Tikki (Nine Square) – Being a North Indian I always missed the North Indian flavors in chaat. Chaat is one of my favorite foods and I just can't be without chaat for more than a few days. This place is a blessing for me, serving lip-smacking ghee loaded Dilli Wali Aloo Chat. I am sure you would not want to miss the explosion of flavors this dish provides.
More about this place – Nine Square Vegetarian Bistro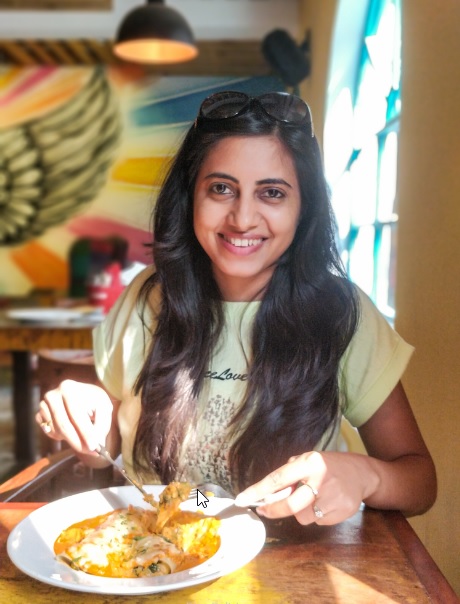 Cannelloni Pasta (Hippie at Heart) – Living by its name, Hippie at heart will give you a peaceful, positive and party vibes. This place has the best pasta I have ever had. Perfectly cooked with a bang on flavors.
More about this place – Hippie at Heart
Casado (Geo Bistro) – This small yet beautiful place has a lot to offer. Among everything that I had at this place, I loved 'Casado' – a plate full of happiness. It's a Costa Rican meal comprised of rice, black beans, plantains, salad, tortilla and any protein of choice (meat/paneer).
At Geo Bistro, authentic Casado is full of flavors, fully justifying the name and giving their customers a royal feel.
The spicy tomato basil sauce served along with Casado was tangy with the fresh flavor of basil. It was perfectly going along with parsley rice and paneer steak.
More about this place- Geo Bistro
Murukku Nachos (Café Pondi) – This is yet another favorite place of mine, with beautiful and cozy interiors coupled with delicious Franco-Tamilian food. Murukku Nachos is a unique dish that you will only be able to enjoy here. A perfect munching starter to start your meal with.
More about this place – Cafe Pondi
Skillet Baked Chocolate Chip Cookie (Souk) – I can visit this place over and again just to have this delicious and delectable dessert. Words or pictures would not justify the taste. The chocochip cookie dough is baked on an iron skillet with chocolate and topped with vanilla icecream. It's just pure bliss.
More about this place – Souk by Cafe Arabia
Lunch Meals (Dino Duggy) – I at least have a meal from this place once a week. Limited lunch meals are an absolute value for money, high on good quality and completely hygienic. I also liked other varieties as well from this place. This is a must try place. I am sure your order can't go wrong. A small tip – Request for Kurkuri Bhindi in sabzi while you order your meal. I do that every time and they are so generous to consider my request every time. They have even customized my meals as per request many times. A must try place.
Punjabi Food (Taste of Punjab) – This is the happening place for people who love bling. It gives you the feel of being in Punjab with loud music, bhangra, mehndi, horse dummy and what not. This is such a happening place, you just can't stop gaping and absorbing the ambiance. The food here is pure bliss. I have never had such delicious Punjabi food anywhere else in Pune. It is a buffet outlet and hence is reasonably priced to enjoy so much variety, right from the starters to dessert. Do not miss the chass(matha) they serve as a welcome drink in a tall glass just like ones in Punjab.
More about this place – Taste of Punjab
Rajasthani Thali and Baati Churma (Hilton, Pune) – I happened to attend the Rajasthani food festival at Hilton and I must say I will never forget that taste ever in my life. Unfortunately, it was a time being thing. Do not miss the chance to try out if they happen to similar fest in the coming year.
More about this place – Double Tree by Hilton
Pizza (GreedyMan Pizza) – Best pizza I have tried in town. The perfectly baked base just won my heart. This is a must try place for all pizza lovers.
Black Forest Waffle (Grub Shub) – Grub Shub came up with a great concept of savory waffles along with sweet ones. There is no doubt they have equally good sweet waffles as well along with savory ones. I loved the idea and savoury waffles. But this particular 'Black Forest Waffle' was simply amazing. The chocolate waffle filled with oozing chocolate topped with whipped cream makes my mouth water right now 😊
More about this place – Grub Shub
Turnip Cakes (Wicked China) – How beautifully you can turn a simple vegetable into something amazing. I could never imagine such beautified version of turnips. This is one amazing vegetarian dish you would not want to miss. The crispy crust topped with burnt garlic and melt in mouth from within. Loved the texture, idea, taste, presentation. A complete win-win dish in every aspect.
More about this place – Wicked China
Bourbon Panacotta (The Culture Pune) – I never liked panacotta until I tried this one. Perfect in texture and amazing in taste. I bet you cannot stop at just one bite.
More about this place – Culture Pune
Tiramisu (The K Factory) – This is my favourite dessert and I try it at every place, where it's available. This is the best I have tried. Perfect on sweetness, beautiful texture and simply melt in mouth consistency.
More about this place – K- Factory
Paprika Chilli & Guava Iceceam(Kopp) – Loved the spiced version of icecream. Guava being my favorite food I loved the exact same flavour in icecream as well. It reminded me of my childhood enjoying my favourite fruit. The creamy texture with the sweet and spicy flavour hits your palate with the goodness of taste.
More about this place – Kopp
Dimsums (Koji) – The best ever dimsums I have ever had.

Disclaimer – All the places/dishes listed are based on personal experience. People may differ in opinion.