Sugar-Free Khajur (Dates) Roll with Nuts
Sugar-free khajur roll recipe is quick and easy to make which is healthy and diabetic friendly. Step by step photo and video recipe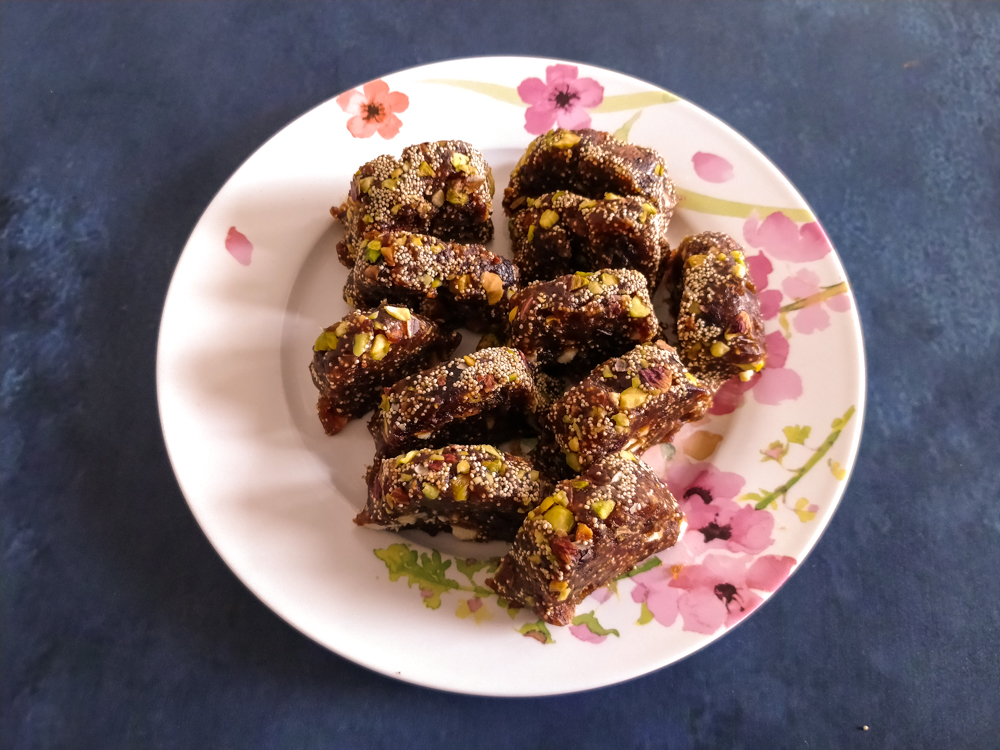 Sugar-free Khajur Roll is always found in my refrigerator. It is not just a dessert recipe but super healthy too. Whenever I get sudden hunger pangs I simply pick one of the khajur rolls and munch it.
Khajur rolls are super simple and easy to prepare. It hardly takes any time to make them and last for at least 10 – 15 days in a refrigerator in an air-tight container. These sugar-free khajur rolls have great nutritional value. It helps to regulate haemoglobin and other nuts balances calcium.
I usually add one khajur roll in my daily breakfast or munch it during tea-time when hunger strikes during a busy day. Khajur rolls are best for kids as well. The best part is whenever kids ask for something sweet or anything to munch on handover a piece of khajur roll and they are sorted. You can also pack them for lunch as a side snack.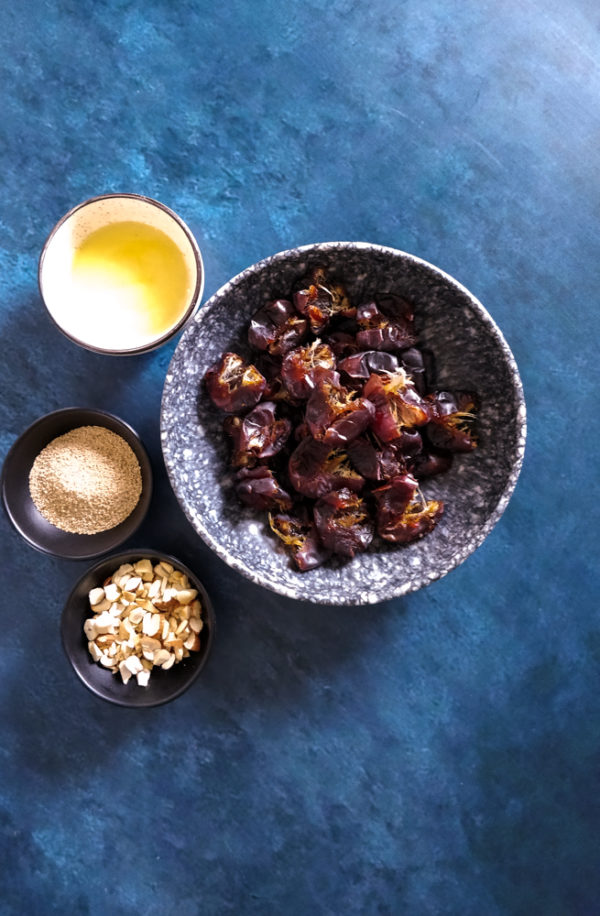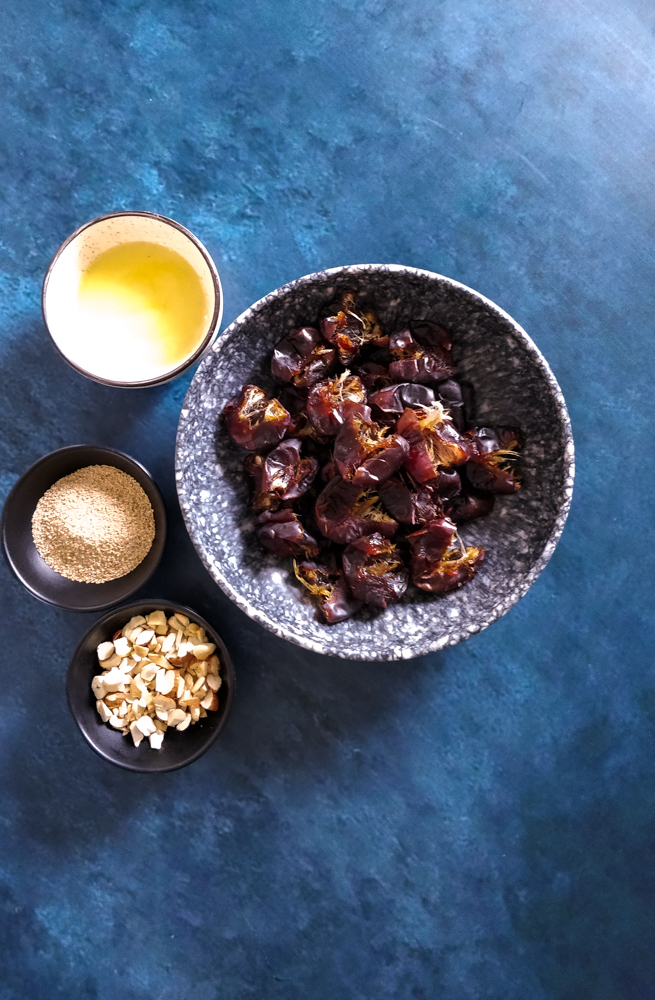 Khajur also known as dates are rich in iron content and should be included in our daily diet. The roasted nuts not only add to the crunch and flavour but also a good amount of protein, calcium, fibre, magnesium, potassium and good carbs.
Video Recipe Sugar-free Khajur Roll –
What kind of Khajur (dates) can be used –
The soft dates are preferred for this recipe. As it moulds easily and helps in binding well. Also, it is melt in the mouth which makes the khajur roll taste even better. I use Kimia dates for this recipe which are super soft and delicious.
You may also like –
Haldiram Style Peanut Masala Recipe
How to make Sugar-free Khajur Roll –
Deseed khajur and blend it well in a mixer jar. In a pan add ghee and add blended khajur. Cook on a low flame for 2-3 mins or till its starts to come together. Switch off the flame and add roasted nuts and poppy seeds. Mix everything well together.
Allow it to cool a bit, but don't let it reach room temperature. Grease your palms and a large plate with ghee. Transfer the mixture to a greased plate and shape it into a log. Garnish well with poppy seeds and finely chop pista. Wrap it in an aluminium foil and refrigerate for 3-4 hrs. This will help the khajur rolls to set.
Cut into pieces and store in an airtight container for up to 10 – 15 days
Things to keep in mind to make Khajur Roll–
1. Do not overcook khajur. Cook just enough that it starts to come together.
2. Make sure to prepare the log before it reaches room temperature.
3. Make sure to grease plate and palms before making a log.
4. Refrigerating helps in setting the roll.
5. Garnish well with pistachios and poppy seed for added crunch.
If you try this recipe please let me know your feedback in the comment section below. Also, do share with us the pictures on Social Media Channels – Instagram, Facebook, Twitter
Please do Subscribe to my Youtube Channel for detailed video recipes.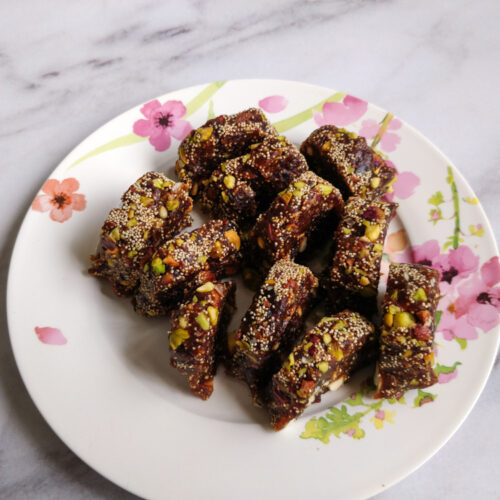 Khajur/Dates Roll Recipe
Khajur or Dates roll with nuts is a healthy recipe which can be served as a dessert or even a good option for a healthy munching.
Ingredients
200

gms

Deseeded Dates (Khajoor)

1

Tbsp

Ghee

2

Tbsp

Dry Fruits (Cashews, Hazelnuts, Almonds)

1

Tbsp

Poppy Seeds

1

Tbsp

Pista
Instructions
Deseed khajur and finely chop dry fruits.

Roast nuts on a low flame till crispy and allow to cool.

Roast poppy seeds separately on a low flame till crispy and allow to cool.

Heat ghee in a pan and cook blended khajur for 2-3 mins on a low flame or until it starts to come together.

Allow to cool but do not let it reach the room temperature.

Grease your palms and a tray or a plate.

Transfer it to an airtight container and preserve for up to 10 days.
Notes
Tips & Tricks– • Use a soft variety of khajur for this recipe.
• Use dry fruits and nuts of your choice. Make sure to dry roast till crisp.
• Do not overcook khajur.
• Allow it to cool to a point when you can handle the heat. Do not let it reach the room temperature.
• Refrigerate for a min of 3-4 hours to let it set properly.