The Real Green Cafe, Pune
The first vegan café of Pune, is sure to inspire you not only with its food but with its environmental friendly culture as well.
The first vegan café of Pune, located in buzzing lanes of Koregaon Park, is sure to inspire you not only with its food but with its environmental friendly culture as well. The vegetarian turned vegan owner has set up this, only vegan café in Pune 2 years back.
>
Vegan diet consists of plant-based food and abstaining from animal products like non-veg, eggs, dairy products or any animal derived substance. Turning vegan is not only related to food or diet but also adopting and practicing environmental friendly habits. It is inspiring to see how this café is decorated with refurbished waste products and making great value out of waste.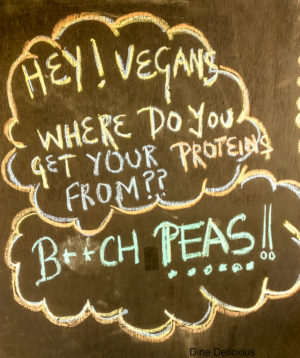 The quotes across the walls gives huge motivation to preserve our degrading environment and animals.
Small steps, like not using any form of plastic by using glass bottles, steel straws are so thoughtful and making this place a perfect vegan one. The small indoor plants add on to the beauty of the place.
The seating is comfortable, and menu has huge varieties to choose from. The owner, Aishwarya has curated the menu and has developed the recipes by herself. Every single and basic ingredient like cheese, almond milk, breads, pizza base, buns, ice-creams and prepared in house. Needless to mention, being vegan, every ingredient is dairy free. The cheese is made with cashews, ice-creams are prepared using soy or almond milk and breads are gluten free.
We chose following things to try from the menu –
Hazelnut – The blend of rich espresso with roasted hazelnut sauce with almond milk and ice, garnished with sweetened whipped cream. What better start than this it could have been. Loved the flavours and consistency.
Fruit Fusion – The blend of seasonal fruits with right amount of sweetness and consistency. Liked it.
Cheesy Spinach Mushroom Sandwich – Prepared with all inhouse ingredients, this sandwich was stuffed with spinach and mushrooms along with cheese and oil-free mayonnaise. The combination of cheesy spinach and mushrooms always works for me. The crust was slightly dry due to no use of ghee or butter for obvious reasons but tasted well with juice.
Sweet n Chili Stir Fry Veggies & Brown Rice – Exotic vegetables like bell peppers, broccoli, mushroom and baby corn prepared in an in-house sweet and chili Chinese sauce, served along with perfectly cooked brown rice. Though the sauce was little too sweet for my liking, but it can be customized as per choice.
Meaty Balls with Spaghetti – Yes, even vegans can have meaty balls here at this café. The balls prepared with mushrooms and wheat flour, crisp from outside and soft from inside was perfect to go with red sauce spaghetti. Liked the concept and dish. It is a wholesome and healthy dish to have.
Butterscotch and Chocolate Icecream – This icecream is sure to confuse you with its taste. The taste is so good, rich and creamy it is difficult to make out that it is prepared from dairy free product, which is almond milk. The flavors were bang on. #HighlyRecommended
Cost – Average Cost is 750/- for two
Timings – Monday – Wednesday – 11:00 AM – 9:30 PM
Thursday Closed
Friday – Sunday – 11:00 AM – 9:30 PM
Location – Shop 17, First Floor, The Hub, Lane 6, North Main Road, Koregaon Park, Pune
Overall Experience – Even if not a vegan, this place is a must visit to understand and experience the concept and get inspired by the food and environment friendly culture.