Roghandaaz – Going Green
Roghandaaz, is a delivery only kitchen specializing in authentic Non vegetarian food, is going green now. The delivery only kitchen serving delicious food.
Roghandaaz needs no introduction when it comes to Non-Veg food. It has set its footprints in no time in Pune Food industry. I was tempted enough while seeing all the Instagram stories full of authentic delicacies. Being a vegetarian, I couldn't be happier when I came to know Roghandaaz is planning to foray in vegetarian food. Finally, the brand I ever wanted to try has the menu of my choice.
Roghandaaz is a delivery only kitchen specializing in authentic Non-vegetarian food, spreading happiness among Non-vegetarians in Pune with their treasured and lost recipes which have been preserved and nurtured over the years by our ancestors. How vegetarian can be left deprived of the taste which they equally deserve to cherish. For all the vegetarians in Pune Roghandaaz is 'Going Green'.
Launched during Holi when summers are just about to arrive and even Non-vegetarians would love to put their digestive systems to rest by feeding their bodies some much-needed greens.
The menu is inspired from North and East of India. It is unique with its homemade preparation and dishes which are rarely to be found in restaurants. The order of which can be placed on Zomato, Swiggy, Uber Eats, Dunzo and Dial a meal.
Whenever you plan a home party has it ever happened with you that you get stuck in the kitchen to bring out the best of dishes for your guests and gets no time to indulge in a conversation or to entertain them?? This place takes care of all your food-related needs. All you need to do is place the order minimum before 24 hrs and stay relaxed and pamper yourself and prep for the hip party at home. Aliya, the owner of the place has a good knowledge of food and can help you with planning your party menu as per your requirement. She is patient enough to listen to all your food-related queries to serve the best, making your party a hit.
I was sent some food to try and I was impressed with the packaging. It is so thoughtful of them to use newspaper bags to deliver food. The aluminium box was packed nicely with starters and breads which helps keep the food hot.
Among
starters
, I tried Mix Veg Cutlet, Soya Shami Kebab, hara bhara kebab and dahi ke sholey. Mix veg cutlet was crisp from outside and had a balance of flavours, Soya Shami kebab, on the other hand, had a strong kick of clove and other garam masalas, hara bhara kebab was a mix of greens and my all-time favorite. Dahi ke sholey had a thicker crust than usual although the filling tasted good.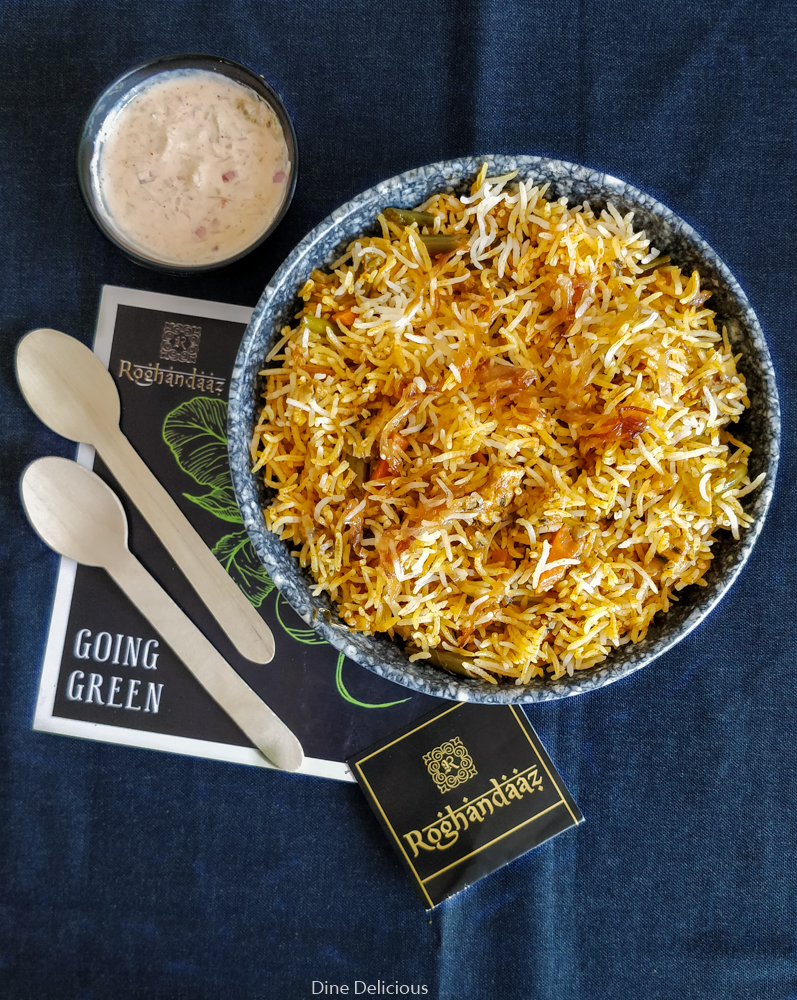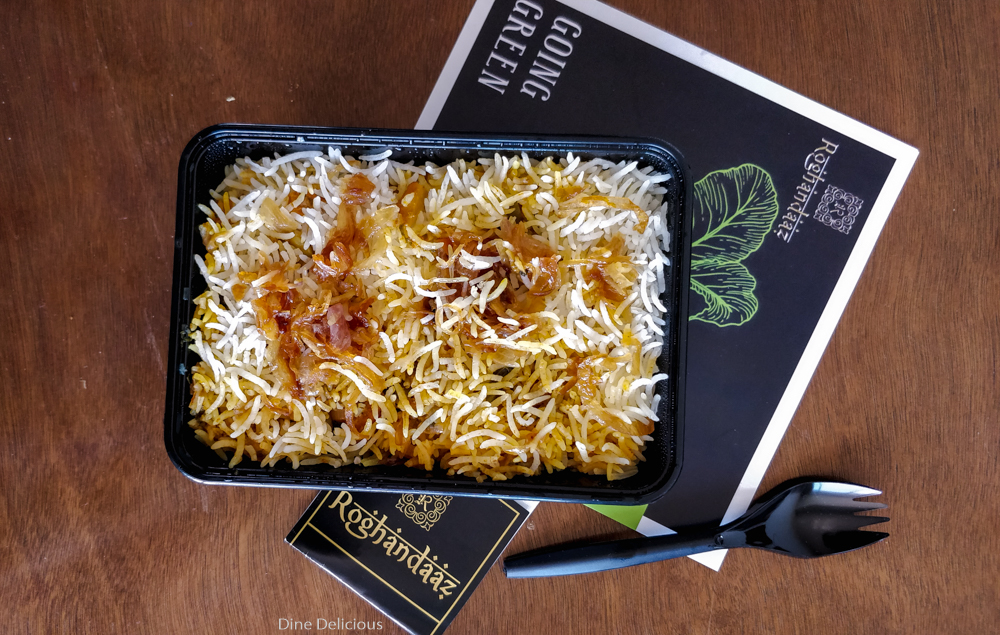 Subz Dum Biryani, I had huge expectations from this one particularly and I must say it was impressive. Perfectly cooked rice with each grain separated layered with flavourful veggies and garnished with fried onions. Biryani is incomplete without fried onions and not every place which serves biryani understands this. Served along with perfectly made veg raita. Loved it.
In mains I tried
Moong ki Dal, I would not be lying if I say I never had simplest of dal tasted so good. I think the caramelised onions did the magic in this one too. I am sure this moong dal can make anyone fall in love with it. Alia, can I please have the recipe of this one 😀
Palak Paneer, not a huge fan of palak paneer but I wont mind having again from this place. Prepared with simplest of ingredients, good green colour of palak signifying the retained nutritious value of it. Unfortunately, couldn't capture the mains.
Shahi Paneer Kofta, melt in mouth koftas dipped in onion tomato gravy was an absolute delight. Can be enjoyed with rice or roti.
Paneer luchi, never tried this delicacy from Bengal before and glad I finally go to try at this place. Maida bread stuffed with choice of filling and deep fried.
Crisp cooked sattu ka paratha was delicious and needs no accompaniment along.
Beetroot halwa was perfectly cooked, balanced in sweetness and loved the texture and flavours in it. I have never had or even imagined halwa made from healthiest of vegetable that exists. It not only exists but tastes delicious as well.
If you happen to try this place please do share with us how you liked it, on any of our Social Media Channel –