Souk by Cafe Arabia
Souk, A perfect place with pleasing ambiance to have different than usual food. Good choices for both vegetarians and non-vegetarians.
The memories we bring back from travels are of food and site seeing. We relive those memories by viewing pictures & videos. But how do we relive and cherish the food back home? Those pictures of food make us crave for it even more. Isn't it?>
Dubai is one of the most travelled and loved tourist destinations, surely has pleased us with the food, nightlife and architecture. We cannot bring in everything we would want, but surely can bring the food. Highly influenced with the city, the owner, Kunal came up with the extension of his place, café Arabia, as Souk.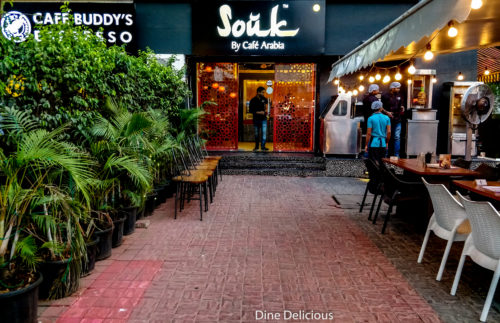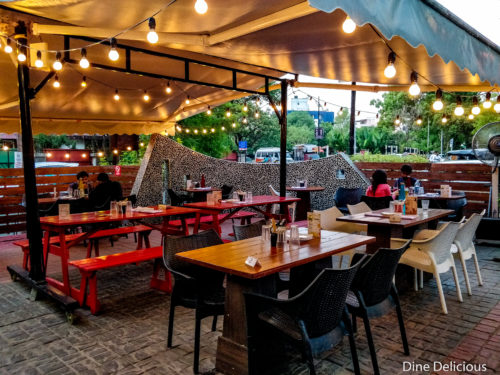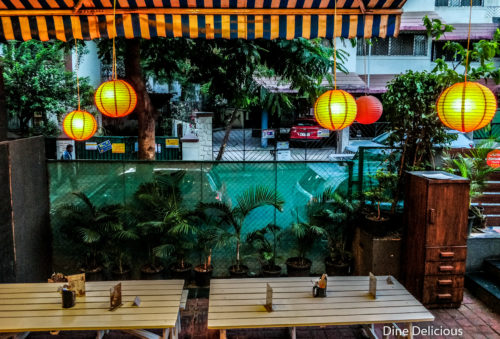 "Souk", means an Arab market or bazaar, where you would spend most of your time shopping while on a holiday. Bazaars are full of people from across the world, making it a happening place. Souk has similar happening ambience. The seating arrangement is comforting, comprising of both indoor and outdoor areas. As soon as you enter the greenery, décor, beautiful lightings gives you soothing and relaxing feel.
The menu is designed thoughtfully with efforts to have variety of options for both vegetarians and non-vegetarians. Special care is taken to keep the techniques and authenticity intact while presenting the menu and the dishes.
The staff is courteous and polite, making sure you have a good time.
To start off with mocktails we tried –
Mojito – Most loved and simple drink of all times. The combination of mint and lemonade with soda can never fail to impress you. Loved it.
Lebanese Sunset – If you are already missing your Middle Eastern holiday or have never been to, this place will transport you to one with this drink. As gorgeous as it looks and tastes. The sweetness of mango crush with the kick of ginger and tanginess of lemon made it a perfect drink to sip on while having an amazing time.
Pink Lady –
Pomegranate and cranberry juice with a hint of lemon and mint leaves. It was refreshing with balanced sweetness.
After have refreshing drinks it was time for salads and starters –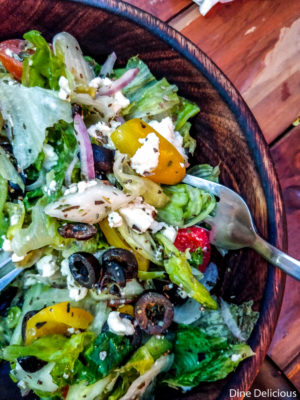 Greek Salad – Mixed chunks of fresh veggies like lettuce, cucumber, onions and olives, topped with feta cheese and oregano. The creamy dressing with the garlic flavor made it so delectable. Loved it.
Hummus Platter – Four types of assorted hummus – beetroot, basil pesto, jalapeno harissa and original served along with pita bread. The different flavored hummus were delicious and is a great idea to tingle the taste buds with these flavors other than original. My favorite among all was the jalapeno harissa which was tangy and spicy. Loved it.
Falafel Platter –
Falafel were mildly spiced and fried to perfection, served along with pita bread, garlic toum, harissa and hummus. Though the falafels were fried perfectly but I felt little sourness in taste. The dips served along were creamy and delicious. Garlic toum was creamy and had mild flavor of garlic. Harissa was tangy and spicy, I loved it.
Ultimate skillet cheese fries –
Crisp fried potato fries topped with peppers, olives, jalapenos and cheddar cheese sauce. A perfect dish to munch on. The kick of jalapeno with the creaminess of cheese sauce gave a perfect bite.
Turkish Pizza –
Boat shaped Middle Eastern flatbread is known as Turkish pizza. This half -n – half pizza came in two flavors. 4 cheese melt and Pesto Mushroom Pide.
As the name suggests,
4 cheese melt
was a blend of four types of cheeses namely mozzarella, cheddar, gouda and emmental. It was also topped with fresh cherry tomatoes and basil leaves.
Pesto Mushroom Pide –
Flatbread, topped with pesto sauce and caramelized onions, garlic sautéed mushrooms. Deliciousness overloaded, specially for people who like pesto sauce.
Salted Caramel Banana Shake –
Caramel sauce was perfectly balanced and delicious, when mixed with banana tasted even better. But I would have preferred it to be little less sweet.
Strawberry Cheesecake Shake –
Though I'm not a huge fan of strawberries but I liked this shake which was perfectly balanced on sweetness. The consistency was thick and perfect to have your tummy full.
Desserts –

Baklava with Icecream –
Freshly baked baklava was shaped into crown and filled with nuts and icecream, topped with caramel sauce. The crisp sheets of baklava with vanilla icecream was a delight to have.
Skillet Baked Chocolate chip cookie –
I can visit the place over and again just to have this delicious and delectable dessert. Words would not justify the taste nor the pictures. The chocochip cookie dough baked in an iron skillet along with chocolate and topped with vanilla icecream.
Rose Panacotta –
Rose flavored panacotta had mild flavors of rose essence and cardamom. The consistency was perfect and hence was the taste.
Cost – Average Cost is 600/- for two
Timings – Sunday – Monday 12:00 PM – 11:00 PM
Location – Shop 5, Seashell Apartment, Opposite BSNL Telephone Exchange, Narayan Annaji Shinde Road, Salunkhe Vihar Society, Salunkhe Vihar Road, Pune
Overall Experience – A perfect place with pleasing ambiance to have different than usual food. Good choices for both vegetarians and non-vegetarians in Middle Eastern, Lebanese and Mediterranean cuisine.