Rajasthani Food Fest at Double Tree by Hilton, Pune
Double Tree by Hilton is hosting a Rajasthani Food Fest from 3rd June – 13th June for you to experience the royal and luxurious treatment.
3 Spices, Double Tree by Hilton, Pune, Review

Food takes you to places and at times food travels at places for people. Such was my visit to Rajasthan in Pune. Yes, my experience at Hilton was no less than a trip to Rajasthan.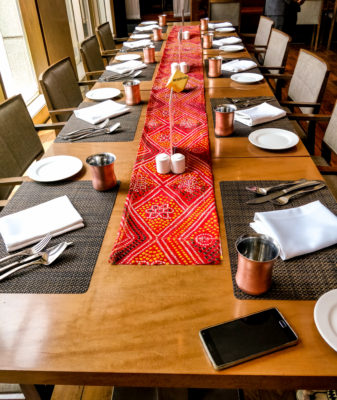 Service, hospitality and ambiance is top notch at this place which needs no words to explain. Let's directly jump to the newest event which is ongoing at 3 Spices, Double Tree by Hitlon. This place is hosting a Rajasthani Food Fest – Rangeelo Rajasthan from 3rd June – 13th June for you to experience the royal and luxurious treatment. Rajasthan is famous for its Heritage Hospitality which reminds us of the Kingdoms of India. This place makes you feel no less than descendant of royal family.
Being a Rajputana state, it reflects the royalty in cuisine as well. Rajasthani cuisine is influenced by the climatic conditions with scarcity of water. Hence with the unavailability of fresh green vegetables the food prepared here is different than the other regions and can be preserved for days. This exclusive cuisine is so scrumptious and finger licking good. Did I mention this is one of my favorite cuisines as well?
The chef flew from Rajasthan to give authentic and traditional taste to the food. The menu has been curated very cleverly to bring in all possible dishes on the table during the fest.
The décor and live programs have been planned differently for each day to give Rajasthani touch to the place.
We were presented with various dishes.
Chaas & Aloo Chana Chat
to begin with – Start could not be any better when representing Rajasthan. The chaas was so fresh with coriander and chili flavor. Loved it. Got it refilled number of times during whole meal.
Aloo Chana Chat – Chunks of boiled aloo (potato) with spices sprinkled over it placed on a crisp papdi garnished with curd, mint and tamarind chutney to give the kick of flavors in each bite.
Kebab Platter –
Three kinds of kebab with unique and bang on flavor in each.
Dahi Kebab – The melt in mouth texture with sour and tangy flavours were perfectly fried crust. Loved it.
Sangri Ke Seekh Kebab – Who says vegetarians cannot enjoy kebabs? These succulent, melt in mouth, delicious seekh kebab were so mouth watering with balanced flavors.
Paneer Ke sholey – The perfectly marinated paneer in spicy flavours tasted amazing.
Daal Baati platter –
The messy daal baati in its best form. Thali comprised of Dal Tadka, Stuffed Bati, Regular Bati, Ghee, Rose petal churma, Pista Churma, Regular aata churma and Besan Churma. The whole platter was finger licking good. If only words could explain the taste. I have never ever tried these many varieties of churma. I could have those ghee laden churma for my every course. How can one not mention those stuffed batis which were unique, perfectly baked crisp crust and stuffed with spicy filling of aloo. Loved the platter to the core.
Thali –
There are times then I regret my small appetite. This was one moment when the delicious delicacies loaded thali arrived on the table. After eating those delicious bati platter I was so full. Staring at the thali I was wishing to have it all but little did my stomach listened to me.
Thali comprised of Dahi ki Mangori, Bhindi Mirchi, Shekhawati-Ker Sangri, Maheshwari – Pyaaz Paneer, Jodhpuri Gatta Curry, Marwari – Dum Aloo, Dal Khima, Subz Pulao, Bajre is roti and Puri. Every single dish had finger licking taste with different flavors. So authentic and traditional. #HighlyRecommended
Cost – Rangeelo Rajasthan Food Fest : 899 /- for Lunch Thali
1399/- fir Dinner Buffet
Location – 3 Spices, DoubleTree By Hilton Hotel, C 32, MIDC, Tata Motors Road, Chinchwad, Pune
Overall Experience – One of the best food I have had in my life. Full of flavors, freshness, homely and feels so royal. I am sure you would not want to miss this.