Grillicious, Kharadi
Good music, beautiful ambiance, courteous staff and most importantly good food, what else one can ask for? Grillicious has it all.
Good music, beautiful ambiance, courteous staff and most importantly good food, what else one can ask for?
Grillicious
has it all.>
As the name "Grillicious" suggests, I thought it to be live BBQ but that's not what this place is about. The hot food served from the kitchen uses barbeque, grilling techniques and BBQ ingredients leading to the name. The ambiance is beautiful with green décor on one side of the wall and open air on the other. The dim lightings, good music makes this place romantic. The rustic benches and tables with 'Grillicious' engraved on it gives this place a unique and interesting look. The colorful light series hanging on open side of the wall with the city view makes this place striking.
Owner 'Bhaskar' is a food enthusiast and a humble person who gave us the best of hospitality. He was visiting every single table to make sure his customers have a good time, enjoy food and makes their bill worth paying with happy faces.
The menu has a huge variety of options to choose from, for both vegetarians and non-vegetarians. There are few interesting dishes which clearly stands out the menu from any other place. The menu is more inspired by the Delhi food and we finally get dishes now in Pune that we only see in pictures from North India and crave for them. Although due to difference in ingredients same taste cannot be expected but good enough to satisfy the cravings.
The drinks here are worth a try, I loved every single mocktail that I tried. The options for 'chakna' here are many more than any other places I have visited. That's the other reason which makes this place worth a visit and have a nice time with friends/family/colleague over drinks.
We started off with the mocktails. Every single mocktail tasted so good –
Blue Moon–
Such a gorgeous looking drink gave me a feel of a beach vacation. Perfectly balanced sweetness with tangy and freshness in each sip.
Ginger Punch– I absolutely cherished every single sip of this mocktail. The sweetness of mango with the kick of ginger gave a perfect taste.
Watermelon Margarita– Freshness of watermelon with a tinch of chat masala makes this mocktail a must try.
Zokhatola –
What a kickass! Bursting of flavor, absolutely flawless drink. I just could not get over it. The blend of sour, tangy and sweet took my taste buds to another world. I so loved it.
We started with the Bar Bites with mocktails.
They serve amazing dips alongside starters and bar bites, having various options for every taste buds and mood to go along with different dishes. Ketchup, Mint Chutney, Yogurt based dip, BBQ sauce, chilli garlic mayo.
Crispy Italian Fried Mushroom – Juicy mushroom filled with cheese and Italian seasoning, well coated with bread crumbs and deep fried. Being a mushroom lover, I liked this dish, though I would have preferred it to be less oily. The crunchiness of the crust with juicy mushroom and finally cheese. What a perfect combination though.
Cheese Chilli Toast – Perfectly baked bread topped with cheddar and mozzarella and cheddar along with onions, capsicum and chillies. Perfect to accompany the long chit chats with drink.
Crispy Sichuan Babycorn strips – Babycorns coated with sichaun spice & bread crumps, deep fried till golden brown and crisp. Because of the lack of flavors and dryness in babycorn this dish did not impress me much. Can be skipped.
I recommend you to always always take owner's suggestions with the dishes into consideration.
Sides & Salads
Masala Papad Platter –
Indian food is so much incomplete without papad. This is the star of the menu and eye catching. Who doesn't love the varieties in papad and some extra toppings with it?? Four types of different sized papads along with 'Do It Yourself' toppings namely, mint chutney, yogurt-based dip, onion-tomato kachumber, savory boondi and barik sev. Its fun to customize masala papads with choice of toppings and papad. Loved the idea.
Loaded Nachos
Pizza Nachos –
Tortilla chips topped with roasted bell peppers, mozzarella cheese, pizza sauce and salsa. Nachos are the best munching partner over talks and drinks. These nachos served the purpose.
Appetizers
Afghani Chaap Tandoori –
I was super happy and excited to see Soya chaap in the menu. I love chaps and being a vegetarian soya chaap is the only option available. Cooked in tandoor to perfection to get that tender, juicy chaps with good flavors.
Malai Paneer Tikka –
Juicy, melt in mouth paneer, perfectly marinated paneer chunks cooked to perfection in tandoor. Though the flavor of cardamom was over powering the over all taste of the dish.
Mains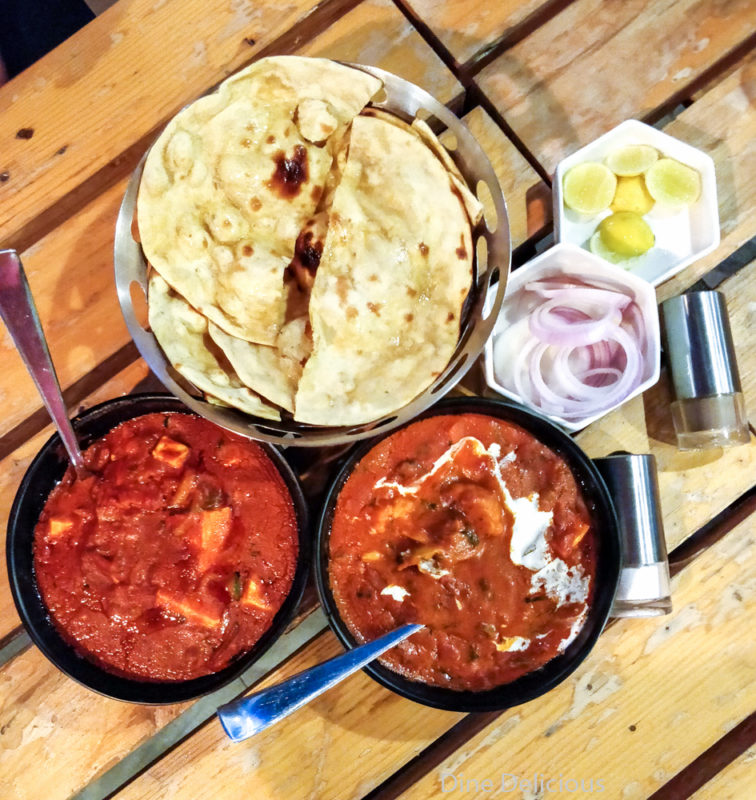 Subz Chatakedaar – The mix of vegetables in a thick tomato-based gravy was made as per request, little spicy. A good dish to have with roti or rice.
Paneer Khurchan – Soft, melt in mouth paneer chunks with capsicum in thick tomato based medium spicy gravy. Again, a good option to have with roti or rice.
Desserts –

Sizzling Brownie with Icecream – My all time favorite dessert. The brownie was not in-house prepared. The rich chocolaty, gooey brownie with hot chocolate sauce and vanilla icecream on the top just gave a perfect ending to the tasting.
Cost – Average Cost is 800/- for two
Timings – Sunday – Monday 11:00 AM – 1:00 AM
Location – 38/4/1, 3rd Floor, Pathare Wasti, Krushna Park, Mundhwa Bypass Road, Kharadi, Pune
Overall Experience – The place perfect to spend time with friends and family over good food and drinks and have relaxing evening